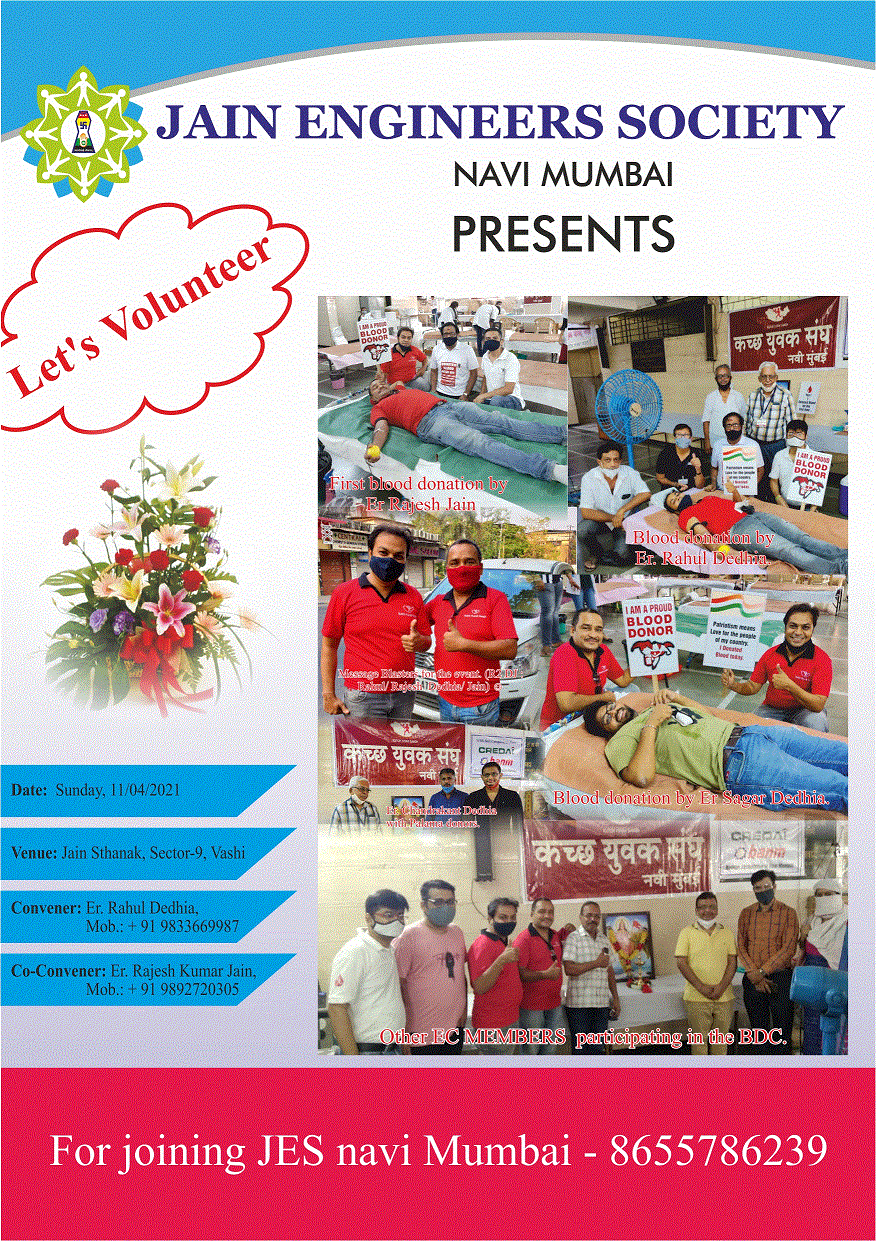 Jain engineers society Navi Mumbai has started new project named "Let's Volunteer - Give back to the society".
Under this project, on the invitation by the organiser, JES members volunteered during blood donation drive organised by Kutch Yuvak Sangh, Navi Mumbai.
Many members from Executive Committee volunteered for the event and also donated blood. Happy to mention the names:
1) Er Rajesh Kumar Jain - President JES NM;
2) Er. Rahul Dedhia, EC Member;
3) Er. Sagar Dedhia, Member
donated the blood,
4) Er. Rajesh Sabadra, EC Member registered himself for plasma donation.
In all 193 units of blood was donated in tough covid times and 8 donors donated samples for Covid Plasma Donation.
Plasma Donation Booth was handled by Er Rahul Dedhia and Er Chandrakant Dedhia (both EC members).
Er Anjana Gandhi and Er. Seema Jain (both Members, JES NM) handled Organ Donation Booth and could convince 23 donors for Organ donation pledge.
Er Pranav Gandhi, Member contributed as a part of Blood Donor Registration Team.
Er. Rahul Dedhia, Er. Chandrakant Dedhia, Er Rajesh Kumar Jain was working tirelessly for Social media campaigning and were backbone of the event among other KYS team members.
Other EC Members Er. Sanket Sawalkar, Er. Dheeraj Agarkar and JES NM Member Er. Milind Kapse also Participated in the event.
It is worth to mention that Er. Rahul Dedhia, Er. Dheeraj Agarkar, Er. Pranav Gandhi and Er. Rajesh Kumar Jain participated in the event with their family.
Team KYS thanked Team JES NM for the active participation in the drive and invited again for all the upcoming donation drive at various nodes in Navi Mumbai area.
JES NM intimated to get the similar cooperation from team KYS in the future social events of JES NM.
Compiled by -
Rajesh Kumar Jain
Rahul Dedhia
Manoj Jain, PRO