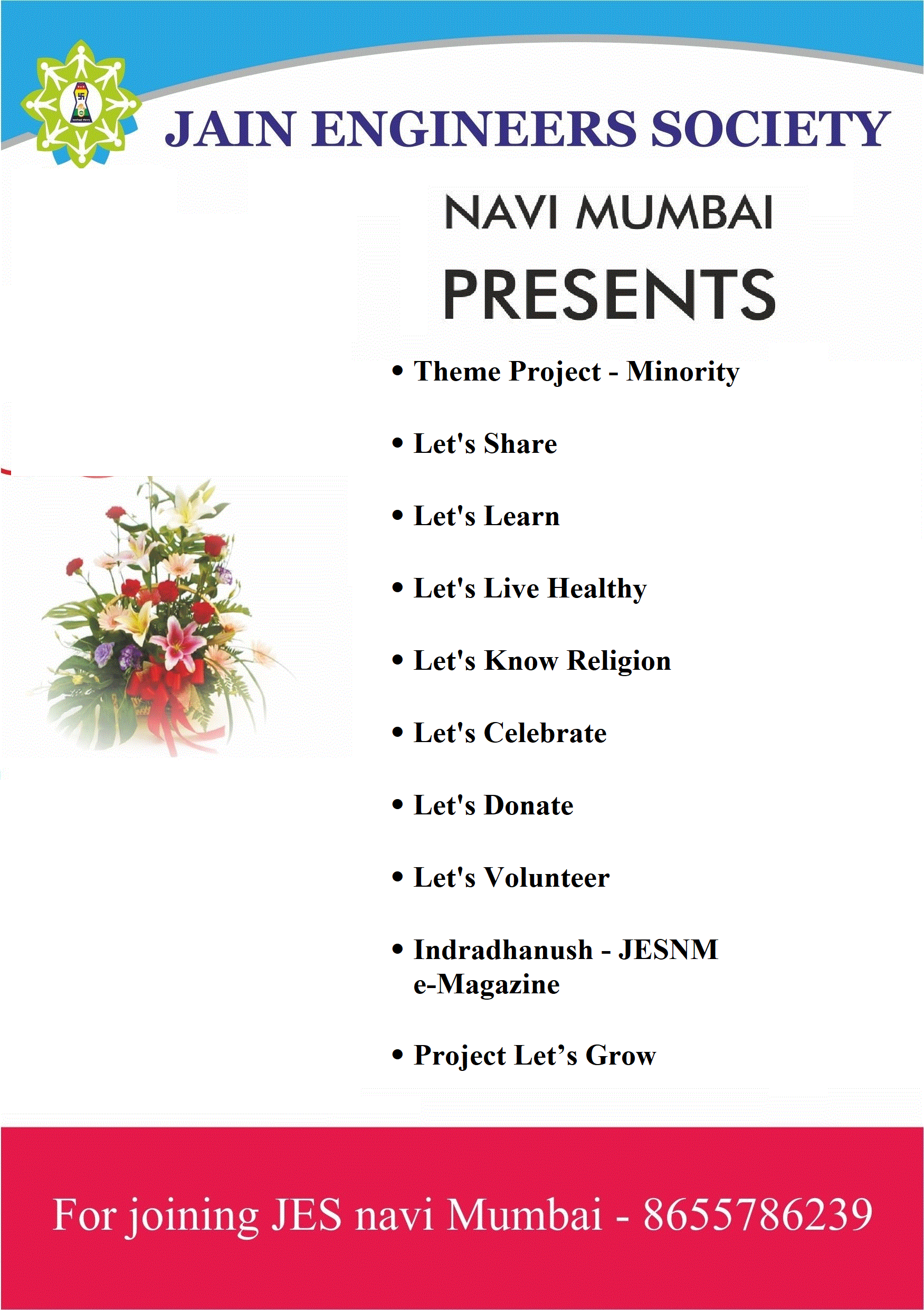 Post By : Er. RAJESH KUMAR JAIN
Dear All,
Whole JES NM new Managing committee is working hard to give members something new, something useful, something innovative. We are coming up with many activities every month and you will feel proud to be associated with JES NM. There are some activities which are only for JES family members, some are where only JES members may participate but will be viewed by all. So be part of JES NM Family to be part of the program not just audience.
Following activities are planned in this month of Apr 2021.
Let's Share (Lessons of Success) - We will listen the success story of Shri Rajendraji Jain, Ex-President JES NM and Shri Sanatji Jain, Ex-president JES Goa. Host will be Er. turned RJ Ms. Vidhi P Jain. Pl book your calendar for Saturday 18 Apr 2021, 8:30 PM.
Let's Learn (Learn with Fun) - Kids (of all ages) will learn Art and Craft from our JES NM member Mrs. Swati Ashish Jain, Sanpada. Pl book your calendar for this workshop from Friday, 30 Apr 2021 to Sunday, 2 May 2021, Daily 5:30 PM to 7PM. Project incharge are Er. Rahul Dedhia amd Er. Anjana Gandhi.
Let's Live Healthy (Stay Healthy – Stay Happy) - We will be circulating Corona Awareness posters with regular intervals. Project Incharge is Er. Chandrakant Dedhia.
Let's Know Religion - P.P. Gyanmati Mataji has written several books for children. Books are in PDF format. Through WA and through Pathashala these books will be circulated to all kids and exam will be taken at the end of the month. Pathashala kids will be presented certificates for attending the exams.
Another activity for Kids is Drawing competition on the occasion of Mahaveer Janma Kalyanak. Details are already posted in the group. Project incharge is Er. Khushboo Rahul Jain.
Let's Celebrate - On the occasion of Mahaveer Janma Kalyanak, we are keeping one भजन संध्या Program (एक शाम महवीरके नाम) on teachings of Mahaveer and other Jain principles. All JES members may participate in this program. Project Incharge is Er. Lawkesh Jain
Let's Donate - One of the great principle of Jainism is Aprigrah अपरिग्रह. We generally have lot of things at home which are of no use to us but usable. Let us donate those items to the needy one on the occasion of mahaveer Janma Kalyanak. Last date for dropping the items at temple is 25th Apr 2021, 9PM. Project Incharge is Er. Amol Pande.
Let's Volunteer - JES NM members volunteered at Blood Donation Camp organized by Kutch Yuvak Sangh navi Mumbai at Vashi (11th Apr 2021) and collected 193 units. Few more camps are in pipe line. All members are requested to participate in these camps either as Donor or Volunteers and complete the social responsibility aspect of your life. Project Incharge is Er. Pranav Gandhi.
Theme Project - Minority - Lecture on Scholarship - Sujeet Kholapure, Panvel on Monday 3rd May 2021. Project incharge Er. Alok Jain, Kharghar
Indradhanush - JESNM Social e-Magazine. We will be publishing eMagzine every month. We want editorial team for the Magzine. Pl come forward and contributes your creativity in this Infotainment publication.
Let's Promote (Learn-Earn-Donate) - Project Incharge Er SP Jain, JBN (10 members at a time, Ad in JES NM
eMagazine (Free for JES members, Rs. 600 For 12 months, for Non-JES members))
Project Let's Celebrate - BDay/ Anniversary etc. will be published in eMagzine and we can wish them personally. JES NM will also wish them with eGreeting Card.
Project Let's Grow - Membership drive - Every member is to fill the details of the family and also seek for one more Jain Engineer to join JES NM. One Punctuality prize will be declared on 2nd May, Sunday (Last day of the Art and Craft workshop) who fills the form by 30th April.